You've got the idea, let's bring it to life
Get your designs printed on our OGO products today. It's easy! Some things to note
- Anyone can order samples!- Samples are priced at our regular fulfilment prices. Setup fees apply if ordering via email
---
Recommended: Order samples via your Shopify Store
Our recommended option. It'll get your order processed the quickest and easiest. All you need is our OGO app installed in your Shopify store.
[vooplayer type="video" id="NzA4NDk=" ]
Hot Tip: When placing an order through Shopify, you don't need to PAY YOURSELF. Use the "Mark as paid" option to skip paying for the order (OGO will invoice you separately once it receives the order from your store).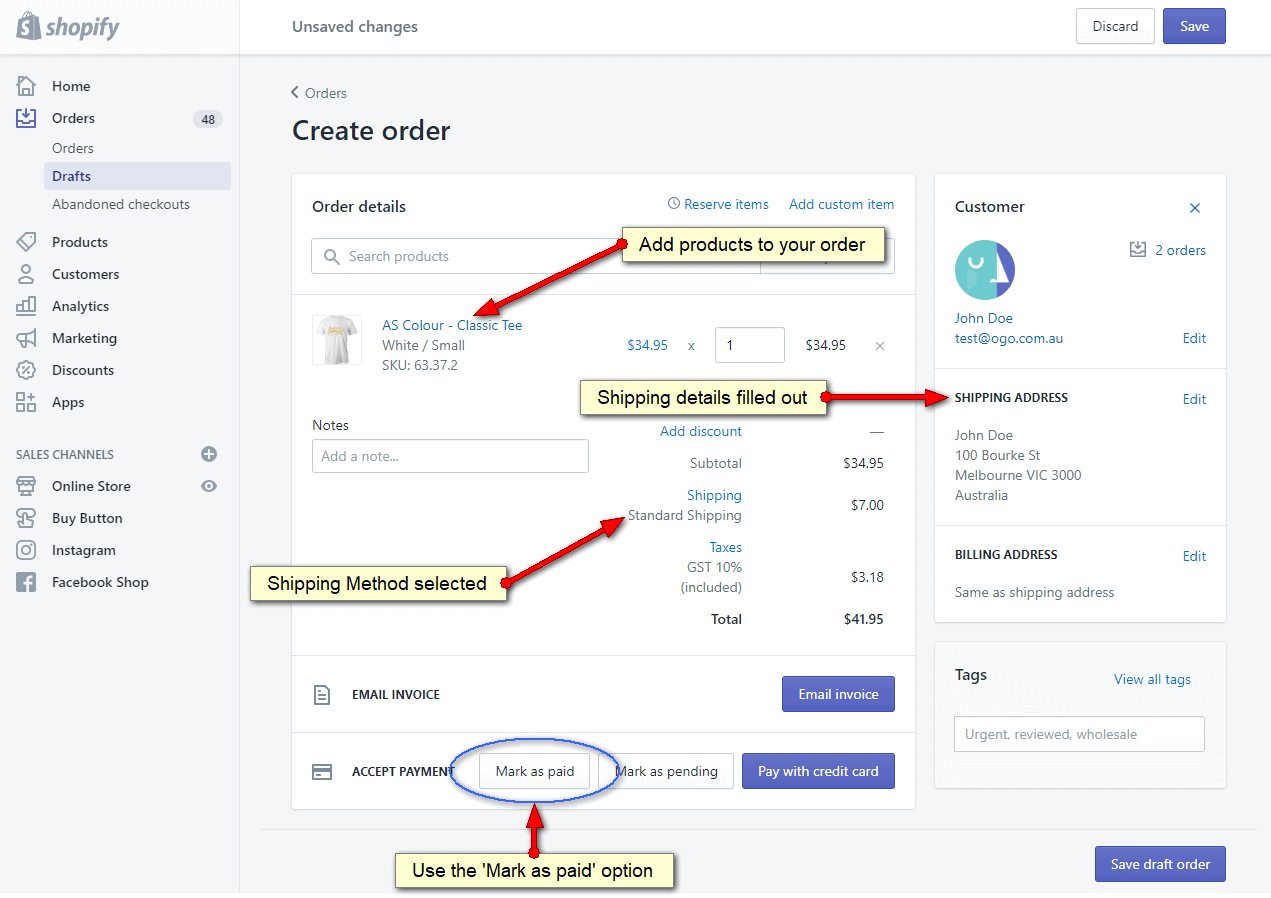 1. Create Order & Add Products
Head over to your Shopify Admin Dashboard, then to 'Orders'. From here, you can 'Create Order'.
Add the OGO products you wish to order to your cart
2. Add customer details
Add your customer details, either selecting a previous customer or creating a new one. A shipping address is required for all orders.
3. Choose a shipping method
Select one of the existing shipping methods, or create a custom one. 'Express' for Express Post, or 'Pick Up' for orders to be collected from our Ferntree Gully head quarters.
4. Checkout using 'Mark as paid'
To complete your order, use the 'Mark as paid' option, which will confirm the order without having you pay for your own order. OGO will then receive this order, and bill you separately by the following business day. Make sure to update your payment method in the OGO app.

More info on Billing & Payments
---
Alternative Method: Order Samples via Email
Additional $2 per item setup fee
Not yet ready for Shopify but still want to see your ideas come to life? Sure, let's help you out via email! This method is slower, since its all manual. Allow 2-5 days for the quote to be made up and sent to you.
To order, please follow the below steps
1. Reply-to or email us at hello@ogo.com.au
2. Attach your design as a PNG file, max size 5mb each. Please follow our design specs closely. OGO Design Guide
3. Let us know what Product Style Colour, Size and Quantity you would like to order.
Also, let us know what the design file name you like printed.
Example:
" hey OGO, can I get the following
Product Style: AS Colour Staple Tee
Colour: Black
Size: 1x Small, 2x Medium
Design: my-design.png "

4. Most importantly, please include your Billing/Shipping address so we can create an order approval & invoice for you.
Once you've sent your order details via email, the OGO team will organise an invoice/bill. You can pay for samples using Credit Card or Paypal.

We'll also send you an order approval/mockup before we start the printing process.