How does OGO's billing system work?
When placing an order on your Shopify store, it's good to keep in mind there are two transactions taking place:
A customer places an order from your store for OGO custom t-shirts & merch, and they checkout by paying you (the store owner) using your store's payment platform.

If you are placing an order for yourself, you SHOULD NOT pay for the order when checking out of your own store. Doing so will mean you are just paying yourself, and Shopify will deduct its processing fees. The funds do not go to OGO. To avoid this, see our guide below.
An order (with status 'paid') with an OGO product will then be sent through to OGO's fulfilment system, where we will then organise an invoice. OGO Print-on-Demand will then attempt to bill your saved payment details (the credit card you have on file within the OGO app). Billing usually occurs in the following business day.
---
How do I place an order without paying myself?
If you are ordering via your Shopify Orders page, you can submit an order without paying your own store.
Create your order as you normally would, making sure to fill out all the customer shipping details, and selecting an appropriate shipping method.
Instead of using the "Pay with credit card" option, use the "Mark as paid" option instead.
You will then be presented with a pop-up to confirm the order. Click "Create order" to complete the order. This will now change the status of the order to "Paid". Once an order is in "Paid" status, the OGO app will automatically send the order to OGO for fulfilment
[vooplayer type="video" id="MTAwNzEyMA==" ]
Video Guide: How to use the 'Mark as paid' option to create your own orders.
How do I add or update my payment method for OGO orders?
You can add or update your payment method for OGO orders at any time via the OGO app.
• OGO accepts Visa and Mastercard
• Paypal is currently not an option
• Your details are stored securely via our Payment processor (Chargebee/Stripe). OGO does not have access to your credit card details
• Your payment method is used only to bill orders you have submitted via your store and the OGO app.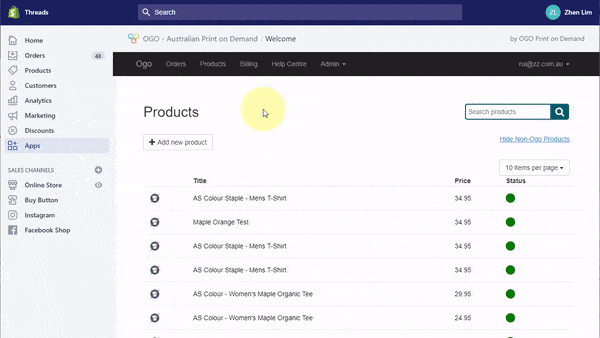 Video Guide: Adding & Updating your OGO Payment Method