OGO's COVID-19 Response and Status
Current Status: Open
July 2020 - OGO is operating a 'business as usual' approach, following all guidelines from the Victorian & Australian Government and World Health Organisation.
Production Update:
Scaling on up!
OGO has entirely revamped its production system. Significant changes to our production backend have occurred in the past month. This has caused some pain, with orders not being updated consistently and some pro-active messages being missed (out of stock etc.). However, the new fully custom, the in-house developed solution lays the groundwork for an ultra-efficient and transparent framework for all OGO sellers. You'll soon receive more detail information about your order status, ability to edit order details to a certain point and improved stock warnings.
We've linked into the inventory of our major suppliers, and our aim in the coming weeks is to get out of stock notifications down to under 48 hours of orders being placed. Keeping your customers happy is our #1 priority!
As a result, of all these changes, we feel we've hit a peak in the long production times experienced. Most of you should have already started to see a significant improvement in production times. There are a few orders that are straggling through the system - usually due to stock issues.. but these will be addressed as our next priority.
We also know there have been a few bugs involving tracking and fulfilment of orders.. Tracking & status issues should be fixed soon as we've been spending all of our development efforts to get production under control.
Ultimately we are aiming to have as seamless a process as possible for all of you guys. We are aiming to reduce production times to 48 hours for most styles. We want you to be able to leave your store and be confident that your orders are being filled quickly and efficiently.
To give you an idea of how hard we are working on trying to push your orders out, here's a snapshot of just part of our daily AS Colour deliveries. These are the boxes that couldn't fit into our receiving area...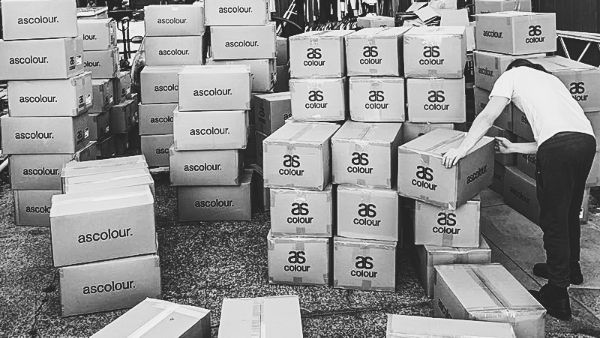 OGO Production Updates
Here's a quick summary of average production times for different products.
AS Colour Staple and Maple T-shirts, Sportage Surf Tees: 3-6 business days

AS Colour Sweatshirts (Box Crew, Stencil Hoodies, etc.): 5-15 business days (this should reduce significantly in the next 2 weeks)

All other styles: 5-10 business days

Design with prints on both sides may add 1-2business days.
Helpful hint: Want the quickest turn around times?

Consider focusing on the core unisex items (Staple Tee, Paper Tee, Classic Tee & Surf Tee) with a single side print. These styles have been optimised for our new Aeoon DTG production system.
Still breaking a sweat!
Apparel imports from key partners such as China continue to be impacted by COVID-19. Whilst most T-shirts from AS Colour and Sportage are from Bangladesh, the sweatshirts and heavier weight items are primarily sourced from China. Production is still impacted by COVID-19 therefore, shipping challenges continue to plague imports into Australia.
The good news is that AS Colour received a decent resupply of Stencil and Box Crew Hoodies last week and thanks to our pre-orders, we managed to secure some - these went a long way in managing the backlog.
The bad news is that the restock supply was in limited numbers and due to the continued high demand for sweatshirts Australia, the stock has already sold out in popular colours and sizes. There is no forecast for a major restock until 2021...yes..next year! We'll do our best to secure as much of the smaller restocks in July and August.
Domestic Shipping Update: Australia Post now reports delivery delays throughout their Australian network, especially to country and rural areas. The Standard and Express Post network are also impacted. Please see Australia Post's COVID Impact Page for updated information
International/DHL Shipping Update: International deliveries outside Australia have been severely impacted by COVID-19. DHL is no longer accepting packages or is delaying packages to a number of countries including Canada, China, France, Singapore and Japan. For the latest list of impacted countries, please see DHL's COVID Emergency Page
International Postage Surcharge: As a result of the weekend AUD and COVID-19, DHL has applied two surcharges to international deliveries. As a result, OGO will be increasing International Postage rates from $12 for the first item to $20 for the first item.
Additional items will increase from $4 per item to $6 per item.
---
A statement from Zhen Lim, Co-Founder
In light of the recent COVID-19 outbreak, we have had a significant number of customers contact us asking about our delivery times, and whether OGO and your stores are affected by the current epidemic.

OGO is committed to a 'business as usual' approach to the current situation. OGO is still open and operating Monday to Friday, with no further delays to production expected.
•

OGO is in daily contact with all our suppliers. To date, all suppliers report ample stock and no major issues to supply.


•

AS Colour has a healthy supply of inventory at their huge Melbourne warehouse.

•

Most of the apparel is sourced from Bangladesh.

Some popular garments may take a little longer to resupply if they sell out (i.e., Crop Tees and Crop Hoodies) but we aren't expecting any significant issues.

•

Australia Post will no longer require a signature on delivery or collection. Read more

here

•

International deliveries will be impacted. DHL's statement can be read

here

•

OGO will be closing our Melbourne office to visitors and pick-ups.
Health and Safety

As you may already know, OGO is proudly based in Melbourne with all customer service and production staff in-house - nothing is outsourced! We are committed to helping reduce the spread of the virus to those of us more vulnerable while minimising the impact and service to our customers.
We have implemented social distancing best practices in the office and production areas.
We have implemented regular office and equipment deep cleaning.
We encourage best practice hand hygiene and provide hand sanitiser in all rooms.
24/7 Customer Support
Our team is still available 24/7 to assist any way we can. Just send us an email to hello@ogo.com.au



Keep up to date with our new Status Page
All current & outstanding issues with the OGO App can be viewed at our new 'Status' page. https://www.ogo.com.au/status/



A positive outlook
While there has been a lot of doom and gloom, we have seen an increase in online activity as more people work from home and/or self-isolate. Also noted amongst our sellers is a marked decrease in marketing (CPMs/CPAs) cost on Facebook, Instagram and Google Ads. This is a perfect time to test out and optimise new campaigns!

We hope that you and your loved ones stay safe and healthy during this period.

Thank you for loyalty, business and understanding.

Zhen and everyone at OGO Print-on-Demand